March 21st, 2018
Carver Photography – one day beginner to intermediate photo course
Places strictly limited

Set in the beautiful surrounds of Bundoran, Co. Donegal. An area of outstanding natural beauty on the Wild Atlantic Way, our 1 day Digital Photography course is designed give you the confidence to produce stunning images with the dazzling skies, reflections, blurred backgrounds and sharp detail that you always wanted to create.
This course will teach you how to use the settings on your camera and composition tricks that will make your photos stand out.
The course will include classroom and photo-walk practical photography sessions where techniques can be practised.
An introduction to digital editing software and techniques is included – these skills can really make your photos shine.
All types of cameras - SLR's, Bridge, Mirrorless and compact - are suitable for this course.


Notes:
• You will need to bring your digital camera and manual, fully charged batteries and a clean memory card.
• Wear good strong shoes or boots, there may be a little walking over uneven, muddy or sandy ground, but nothing too strenuous.
• If you have a tripod, bring it.
• There will be an opportunity to gain some help with configuring your own laptop computer for photo editing, so please feel free to bring that too.
• Bring warm and waterproof clothing, hats and gloves. This is the North-West of Ireland, so you should be prepared for rain, wind or sunny skies.

The course normally runs from 10am to 4:30pm and costs €95 per person.
Group sizes are kept small – typically 3 to 6 people, this allows plenty of opportunity for individual attention.
Group courses normally run on a midweek day.

1:1 Individual tuition is available, on request – the cost of this is €195 per day and can be tailored to meet your exact needs with greater emphasis on whatever skill you wish to improve - such as camera control, composition or digital editing.

Please click here to register an interest and request more information.

John Carver

Carver Photography
www.carverphotography.com
facebook.com/carverphoto
twitter.com/carverpho
Instagram: @carverphoto

March 16th, 2018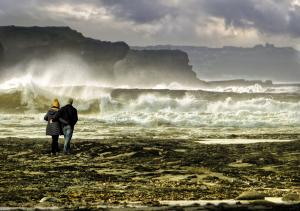 Image Composition #1 - Rule of Thirds

There are many 'rules' of photographic composition. The 'Rule of Thirds' is probably the one you are most likely to have heard of.

Before reading any further - bear in mind that rules are made to be broken and there are many fine images that don't conform to the accepted rules. It is still worth gaining an appreciation of why we find some images more pleasing and less unsettling than others.

The grid:

Imagine breaking an image into thirds horizontally and vertically.




When you are taking photographs - imagine this grid superimposed over the scene in your viewfinder or on the LCD display.
(Some cameras and phones have an option in the setup menu to 'turn on gridlines')

This is useful for lining up the horizon or some architectural feature, but more than that - if some key element of the photograph lays on (or near) a gridline, or better still on the intersection of the gridlines - the resulting image will appear to be more 'balanced' and pleasing to the eye.

Elements that cross gridlines at an angle also appear more powerful.

It is worth bearing in mind that we tend to look at photos from left to right and top to bottom - the most powerful place to locate a key part of your photo is therefore the top left intersection point.

If a grid is too complex - then just try to avoid putting the subject of your photo slap bang in the middle of the frame - it will probably look better off to one side..

Example:

This photo places a seagull close to the top left 'sweet spot' and the horizon on the top third gridline.
The surf line bisects the gridline in the bottom third and flows into the right central sector.

This might not be the best image in the world, but it fits the rule of thirds so most people should see the composition as pleasing.




The rule of thirds is a useful tool to help compose images - but don't be afraid to experiment.

I would love to hear from you with your feedback and comments if you have found this blog post useful..

John Carver

CarverPhotography.com
Follow and like my Facebook page
Contact me ref. courses and workshops in photography and digital photo editing